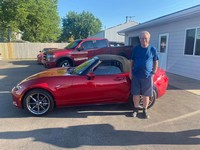 6/7/2020
I saw the car on AutoTrader, and contacted the sales manager Corey. He was extremely courteous and helpful, got us pre-approved, and had all the paperwork ready when we got there. We drove from Denver to Sioux Falls to finish the deal. Corey is a very friendly, helpful, clean talking young man with a great personality. His small town dealership is first class. It was a real pleasure doing business with them. Thanks Corey!!

Kevin 3/11/2020
I got a text from Corey saying I can get you a vehicle loan, at first I thought, no it can't be. I called him and next thing I know, I got a loan and now we have a 2014 Ford Escape. I highly recommend TXG Autos. Excellent service and really nice. Thank you Corey.

LeRoy Robinson 2/20/2020
I recently bought a pickup and I am very pleased with the before, during and after sale treatment I received. I promise I will look at them again when I'm in the market for vehicle.